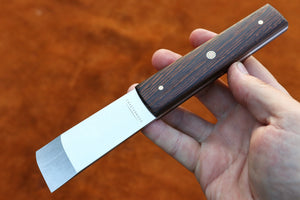 Chartermade
Signature Series - Original Style Skiver - Wenge
Sale price Price $195.00 Regular price
Description: This handle is crafted from the gorgeous wenge wood.  Each piece of wenge is unique.  Its distinctive rich chocolate colour is augmented with muted golden streaks creating its unique patterning.  The handle is complemented with brass pins and a features an intricate center mosaic pin. 

Due to variance in natural handle materials, actual knife purchase will differ from this picture.  

The blade is made from Böhler-Udderholm N690 steel and has polished finished.  The handle has been designed with chamfered edges and has a slight domed shape so it fits comfortably in the hand and is easy to use. 
Dimensions:  length: 190mm; depth: 13 mm; blade width: 32 mm 
The original style skiver is designed to excel in skiving and thinning the edges of leather when making leather wallets and bags etc.   The unique curve of the blade assists with the accurate and easy skiving.  This skiver can also be used for cutting and basic trimming as well.   
Customise your blade with Art ! Remember you can add your artwork to your blade for FREE until the end of JUNE 2023.  
 Included in the custom made gift box is a hand cut and compounded leather strop to allow you to maintain the edge of your knife to keep you cutting more leather for longer.  
Designed by a leather artisan for a leather artisan.
Thank you for supporting our artistry and work.
 We are very proud to say that our products can be found in the hands of artisans from more the 50 countries 
Local and International shipping available, shipping cost added at checkout.
International Shipping  is with DHL express EXCLUDES insurance.  Please be sure to add insurance to your Check Out Basket.   We are not liable for loss or damage during transit. 
We are a husband and wife team, artisan business where each item is made from beginning to end in our home workshop because of this please be mindful that all sales are therefore final.  If you would like to contact us you are welcome to send us an email: chartermade@gmail.com